Artisanal bread delivered to your door – a delicious holiday gift idea! Find out how Wildgrain can help you with an easy, unique gift for the holidays this year.
*This is a sponsored post. All opinions are my own.
Is there anything more delicious than the smell of fresh bread baking in the oven? Surely not! The only thing that might come close is receiving a delicious artisanal bread subscription box from Wildgrain filled with all sorts of breads, pastas, and pastries as a gift.
The gift of bread is personal, unique and so darn delicious. A WIldgrain Subscription is the perfect gift for someone who loves to try new things! Plus, it's sure to come in handy when they're short on time (or motivation) during the busy holiday season (or any time of the year).
Each month they'll receive a different type of bread, pastas and pastries in a monthly themed subscription box from small-batch bakers and pasta makers from across the country. Every item in your Wildgrain box is made with love and care.
And the best part is that each item is bake-from-frozen, going from the freezer to your table in 25 minutes or less.
Why I Love My Wildgrain Subscription
I usually make biscuits, but found that sometimes, I just don't have the time. This bread subscription box was perfect for those extra busy times. All I needed to do was take it out of the freezer and pop it into the oven!
Plus, it's a great way to introduce my family to different flavors we wouldn't normally try like Rosemary bread or Sourdough.
As you may know, sourdough has garnered somewhat of a fanatic following in recent years.
Sourdough bread is made with a sourdough starter, which is a mixture of water and flour that's been fermented by bacteria and yeast. The acids in sourdough breads give it a unique flavor and texture.
We love the taste of sourdough bread, but I have long been intimidated to give it a try right at home. I love that with Wildgrain my family can enjoy all of the benefits of sourdough bread without any of the work involved.
Sourdough bread is also thought to be more nutritious than traditional bread because it contains more vitamins, minerals, and antioxidants. And because the starter culture is continuously used, the bread doesn't go stale as quickly as traditional bread does.
Some of my other favorite features include being able to skip a month of my subscription and if at any time I change my mind about having a Wildgrain subscription there is no commitment, so I can cancel.
And although I love the variety of what can be found in the box, I like that 4 days before my Wildgrain order ships, we can swap out items in my upcoming box.
What is included in a Wildgrain Subscription Box?
Wildgrain has 2 options – the Bakery Box and the Mixed Box. The Mixed box includes an assortment of sourdough bread, hand-cut pastas and artisanal pastries. The Bakery box includes an assortment of sourdough bread, breakfast baked goods and artisanal pastries. Both boxes may rotate items for the season.
For example, this month's subscription box features items like Pumpkin Cinnamon Rolls, Rosemary Garlic Sourdough Loaf, English muffins and Cranberry Pecan Sourdough.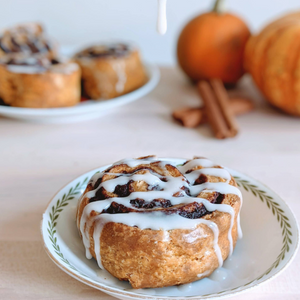 Oh and to make this food gift even more appealing, Wildgrain offering free croissants for life with any new subscription box order!
Look at how flaky and delicious these croissants come out from the oven!
While when I think of croissants, I think of a breakfast item, I recently used my frozen croissants from Wildgrain for a delicious lunch sandwich.
Artisanal breads are good for when you want a high-quality, tasty, and nutritious loaf of bread. They're made with clean ingredients and no preservatives.
Why a Bread Subscription Box is a Great Food Gift Idea
There are a few reasons that a bread subscription box would make a great gift idea. It's a unique and memorable gift that most people don't think of giving. And it's something that can be enjoyed year-round, not just during the holidays.
Give the gift of fresh, delicious bread with an artisanal bread subscription box. Whether you're looking for a gift for the holidays, a birthday, or just because, this bread gift idea is sure to please anyone on your list!
How much are the Wildgrain subscription boxes?
Both the Mixed Box and Bakery Box are $89/month.
Click here to order your first subscription box.
Use my discount code MOMMALEW and get $10 off your first box. Plus you will get free croissants for life If you order by 11/30/22!